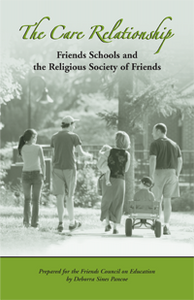 Prepared for the Friends Council on Education
by Deborra Sines Pancoe
Arising from a research study conducted by Plymouth Monthly Meeting member Deborra Sines Pancoe with members of Friends school and Meeting communities, this booklet articulates guiding principles and positive practices for School-Meeting "care relationships," to support Friends schools and Meetings in developing effective and meaningful relationships.
---
Physical Publication [$4.00 + shipping]
Digital Epub [$15.00]
Interactive PDF 

[$15.00]
Epubs work best with iBooks for iPhone or Mac OS and Google Play Books for Android or PC. Visit your app store.