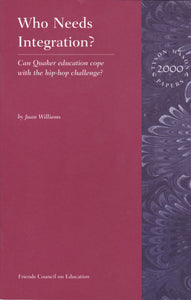 Can Quaker education cope with the hip-hop challenge?
Tyson-Mason Paper, 2000
by Juan Williams
A collection of essays, research examples, case studies, and queries, exploring and urging the continuing work toward multicultural change in Friends schools. This book offers frameworks for understanding the issues that arise amid multicultural change and powerful accounts of the process in Friends schools.
Book Review by Sidney Bridges, Chair, English Department (Brooklyn Friends School) grades 5-12
In a provocative address and reflection on integration and diversity initiatives, Juan Williams integrates poignant personal testimony with compelling reflections on historic global and legal precedents. What are the implications for Quaker educational leadership in the twenty-first century within and beyond our institutions?
In an affirmative call to action, Williams exhorts Quaker schools to keep their eyes on the prize in the crucible of new understandings and myriad media and market pressures: the categorical moral imperative of resourceful, risk-taking Quaker leadership that emboldens the embrace of the tension of diversity. 
Williams offers an engaging, layered narrative, He holds integration in the light of past and present socio-economic, racial, political, and legal realities. He explores a myriad of complexities, generational perspectives, and unforeseen successes and emerging opportunities. Ultimately, Williams challenges us to see ourselves not only as educators but also as "history makers."